Commercial Bakery for Rent
Looking for a commercial bakery for rent in Calgary. Welcome to CulinaryCoworking.com. Your one-stop destination for finding the perfect commercial bakery for rent in Calgary. Are you an aspiring baker? pastry chef? or food entrepreneur looking to turn your culinary dreams into reality? Look no further! Our Calgary shared commercial kitchens offer the ideal solution to help you kickstart your bakery business without the high upfront costs.
Why Rent a Commercial Bakery in Calgary?
Starting a bakery business can be a daunting task, especially when you consider the expenses involved in setting up a fully-equipped commercial kitchen. Here's why renting a commercial bakery makes sense:
Cost-Efficiency: Renting a bakery space is a cost-effective alternative to building your kitchen from scratch. You can access top-notch baking equipment without the heavy investment.
Flexible Space: Our commercial bakery rentals are designed to accommodate a variety of baking needs. Whether you're a small-scale artisan or a large-scale production, we have the space for you.
Compliance and Convenience: Our kitchens meet all health and safety regulations, ensuring that you can obtain the necessary permits and licenses for your bakery business with ease.
Calgary Shared Commercial Kitchen
Calgary's culinary scene is buzzing with creativity and innovation, and our shared commercial kitchens are at the heart of it all. Here's what you can expect from our Calgary shared kitchen spaces:
Prime Location: Our kitchens are strategically located, providing easy access to local markets, suppliers, and a diverse customer base, helping your bakery business thrive.
Community Collaboration: Join a community of like-minded culinary entrepreneurs who share your passion. Collaborate, network, and learn from one another in a supportive environment.
Flexibility and Accessibility: Gain 24/7 access to our shared kitchen facilities. Work on your own schedule, ensuring your bakery goods are always fresh and ready for your customers.
Shared Kitchens Make Sense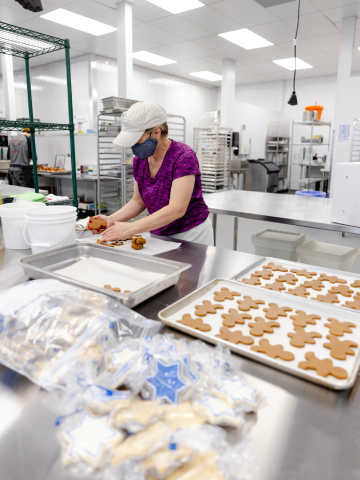 Commercial Bakery for Rent
The concept of shared kitchens is revolutionizing the food industry, offering many benefits:
Resource Optimization: Shared spaces minimize waste by efficiently utilizing resources like ovens, mixers, and storage space.
Lower Risk: Share overhead costs with fellow foodpreneurs, reducing your financial risk and allowing you to focus on perfecting your recipes and business strategy.
Community Support: Being part of a culinary community means you have access to valuable support, advice, and mentorship as you navigate the challenges of the food industry.
Opening a Commercial Bakery Business in Calgary
Bakery space for lease. Calgary's diverse and food-loving community is the perfect backdrop for launching your bakery business. Whether you specialize in artisanal bread, delectable pastries, or savory treats, Calgary welcomes culinary innovation and excellence with open arms.
In conclusion, CulinaryCoworking.com is your gateway to finding the ideal commercial bakery for rent in Calgary. Our shared kitchen spaces offer cost-efficiency, flexibility, and a supportive culinary community to help you realize your bakery dreams. Join us today and take the first step towards opening a successful bakery business in Calgary. Contact us to learn more and schedule a tour of our state-of-the-art facilities. Your culinary journey begins here!
Contact us today! We are here to help you start your bakery.