Looking for a Catering Kitchen for rent in Calgary? Are you a caterer with a passion for culinary excellence? Do you dream of taking your catering business to new heights in Calgary? Look no further than our exceptional commercial catering kitchens for rent. In this guide, we'll delve into the world of commercial catering kitchens, why they're a game-changer for your business, and how our spaces in Calgary can set you on the path to culinary success.
Commercial Catering Kitchen in Calgary?
Starting or expanding a catering business is an exciting journey, but it comes with its share of challenges. Renting a commercial catering kitchen in Calgary can be the catalyst for your culinary aspirations. Here's why:
1. Cost Efficiency: Building and maintaining your own commercial kitchen can be financially daunting. Renting a catering kitchen provides significant cost savings, sparing you from the substantial upfront expenses.
2. Premium Equipment: Our commercial catering kitchens are outfitted with top-of-the-line appliances and tools, empowering you to create culinary masterpieces with ease.
3. Compliance and Convenience: Navigating health and safety regulations can be complex. Our kitchens are meticulously designed to meet all compliance requirements, streamlining the process of obtaining permits and licenses for your catering business.
Calgary – A Culinary Hub
Calgary's culinary landscape is vibrant and diverse, making it the ideal backdrop for expanding your catering business. Discover the unique advantages of renting a commercial catering kitchen in Calgary:
1. Strategic Location: Our kitchens are strategically situated, offering easy access to local markets, suppliers, and a diverse customer base, which can significantly contribute to your catering business's success.
2. Collaborative Community: Join a dynamic community of culinary entrepreneurs who share your passion. Collaborate, network, and learn from one another in a supportive and stimulating environment.
3. Flexibility and Accessibility: Gain round-the-clock access to our commercial catering kitchens. This flexibility enables you to work according to your schedule, ensuring your catering offerings consistently meet the highest standards.
Shared Rental Kitchens – The Future of Catering
Shared commercial catering kitchens are redefining the food industry and offer a multitude of advantages:
1. Resource Optimization: Shared spaces minimize waste by efficiently utilizing resources such as ovens, mixers, and storage space, leading to cost savings and environmental sustainability.
2. Lower Risk: Sharing overhead costs with fellow foodpreneurs reduces financial risk, allowing you to allocate resources to perfecting your culinary creations and expanding your business.
3. Community Support: Being part of a culinary community means you have access to invaluable support, advice, and mentorship. Forge connections that will help you navigate the dynamic catering industry with confidence.
Catering Kitchen for Rent in Calgary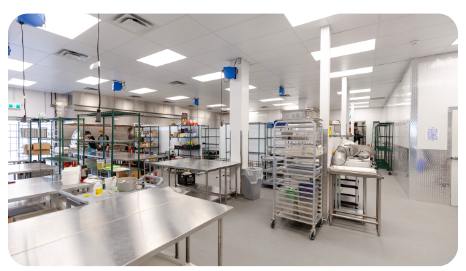 Unlock Success in Calgary's Culinary Scene
Calgary's diverse and food-loving community is the perfect canvas for your catering business. Whether you specialize in corporate events, weddings, or private parties, Calgary welcomes culinary innovation and excellence with open arms.
In conclusion, our commercial catering kitchens for rent in Calgary are your stepping stone to success. Our shared kitchen spaces offer cost-efficiency, flexibility, and a supportive culinary community to help you achieve your catering business goals. Don't miss the opportunity to shine in Calgary's thriving culinary scene. Contact us today to explore our state-of-the-art catering kitchen facilities and embark on your journey to culinary greatness! Your success story starts here.